Game News
0.68.1 World Editor Demo
by: Mit on October 18th, 07:29pm
Here's a short video demonstrating some of the new world editor features in the next version of the client:


New in 0.68.0
by: Mit on October 1st, 07:47pm
Shiny postprocess effects, updated space cockpit and 'Hologram' screens, numerous additions to the world editor screens and various optimisations and bugfixes on worlds and in space.

Latest Dev Demo
by: Mit on September 11th, 08:38pm
Here's a video showing some of the views and features in the latest development version..


0.67.6
by: Mit on September 1st, 07:27pm
In this new version we have.. (drumroll)..

- New space station visuals
- Space Station spectator cam with camera control on arrow keys (nice to watch people trading..)
- Fixes and improvements to the landscape & water rendering, which means BiplaneWorld is worth a quick flyover (just need to finish the stitching..)
- Various minor fixes and improvements for space UI
- A whole lot of love

.. and a new DLC pack for space which tightens up the graphics on level 7. Oh and did I mention the new point drive?


0.67.3
by: Mit on June 26th, 04:07pm
In this client update there's a major overhaul of the graphics engine (producing a much better framerate for lower spec PCs), improvements to the sun & grass rendering and a whole bunch of bugfixes and improvements for UI, scripting and in-game world editing tools.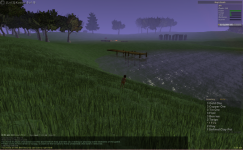 New grass
by: Mit on June 15th, 07:33pm
Bit chunky yet but I know what needs doing.. Click for more: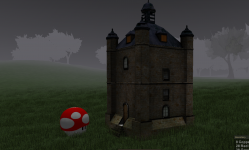 0.67.0
by: Mit on June 11th, 06:48pm
The 0.67.0 release expands the number of inventory item slots, skill slots and scripted variables available on the world servers. This is a breaking change - old clients won't connect to new servers (and vice versa).

World Owner Manual updates
by: on June 11th, 06:51pm
For those of you interested in a bit of old game development, there have been lots of updates to the World Owner's Manual including a whole load of useful little server script examples in the System Functions reference.


Archive | Back to top