World Templates - .isl Files
.isl files include all the settings, buildings, player records and other data files that determine how a world works. .isl files do not include all the models and textures that a world uses - you may need to download these separately.

Make sure you read the 'Using an .isl file' section below before importing isl files.


Downloads
Desert Racing World
Uploaded 16th Nov 2006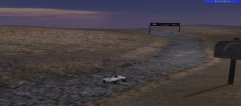 This is a little racing world that uses a combination of auto-generated texmaps and heightmap jiggery-pokery to create a track that banks and dips through a desert landscape. It's quite a pretty place and the racetrack is simple enough to be fun, but bumpy enough to be challenging from time to time. The zip contains the .isl file, a driver character and racing buggy in four colours, background models and textures for the scenery and racetrack signs, and LOTS of texture maps for the landscape. There is no economy, no weapons, just a reasonable vehicle setup and one track.

PLEASE NOTE: this is a large download because it contains a large number of fairly high-res texture files. As such, you and your players will need plenty of bandwidth to get the files (linking them to your own webspace is essential); and a decent spec PC with a good amount of video RAM. Unzip the zip, copy the Data folder to your Universal root directory and import the .isl file to your world.

Zion 2


Uploaded 20th Aug 2006


This is the full settings, buildings, map etc export for Zion - A full, persistent, dynamic economy that makes use of buildzones, building tech levels & decay and other advanced economic settings to produce an organic, evolving world that requires little or no maintenance. Zion's settings also include basic robocrow, ultrakricket and hornball setups.

Traditional-theme Economy World (WIP)


Uploaded 20th Aug 2006


This .isl includes template settings to produce a hunger & thirst economy world, similar in essence to the sort of worlds played in the days when this game was solely 'A tractor'. Though based around the same themes of economic progression and character survival, this setup adds extra features and dimensions made possible by the new servers. (For instance, the inclusion of a 'starter' level, giving new players an easier introduction to the world). The .isl also includes a fairly nice landscape, made using the auto-generation system - the textures for which are referenced from a website and so will be downloaded when you join the world.

This world has not been play-tested, and some areas of it may not be complete. Settings and buildings will need tweaking in a 'beta'-environment before use.


Using an .isl file
Extract the .isl file to your computer. Run your world server program and select the 'Import World' option from the 'File' menu, then select the .isl file you have downloaded.

Importing an .isl file can overwrite all settings you have previously configured on your world, so if theres anything you don't want to lose make sure you save everything in an .isl file (Using the 'Export World' option) before you import.

Other tips for using .isl files :

After importing an .isl file, you may sometimes need to restart the server program for all changes to take effect.

Importing an .isl file will only overwrite the files that were including when the .isl was exported. If you want the settings from one world combined with the buildings from another, you can unselect options in the export world dialog and recombine them later.

Please note that as the game evolves, some older .isl files may be incompatable with the current server data formats - and strange side effects may occur from loading an old .isl file. The files listed here will not always be completely up to date - If you have any problems with any, please report it on the forums.
Sharing your world
If you have a world built that you think would make a useful template for other world owners, and you're willing to share it, please let one of the game staff know on the forums.

The future's bright...
The Universal is a game like no other - constantly changing, with new games, storylines, events and achievements happening all the time. Maybe you'll play for ten minutes every few days just to keep yourself alive. Maybe you'll spend weeks building an empire. Perhaps you'll go for an 8 hour session blasting other players to bits. The Universal has endless variety to keep you coming back week after week.
Features
As the history of your civilization develops, some of the things you might see include...
Strange Visitations from wandering shamen
Simple and complex economy games, with trading and skill development
Combat and racing games
Robocrows, Ultrakricket, Bongosquares, Hornball and other bizarre entertainments
A huge range of characters and vehicles to use
A galaxy of worlds to explore and colonize
The ability to own your own world...